Our Dutch member agency, TRIMM, has once again proven its digital prowess by securing a spot on the prestigious Emerce 100 list for the seventh year in a row. TRIMM has been recognized as one of the best full-service digital agencies in the Netherlands, excelling in the large agency category. The agency's consistent performance is a testament to its dedication to clients, partners, and teams, which has propelled it to become a leading digital B2B agency in the country.
The agency's focus on creating beautiful and effective digital solutions is evident in the successful projects they have brought to life. With "digital" as their core expertise, TRIMM continues to lead the way in crafting seamless and innovative digital experiences.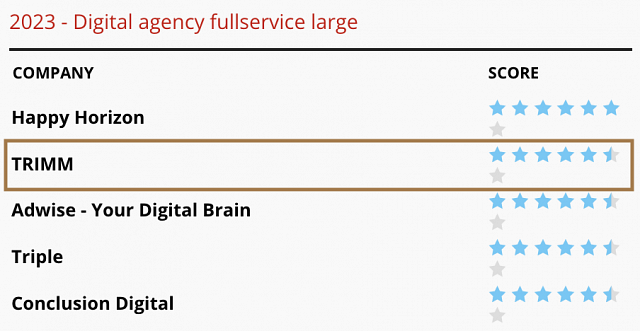 The Emerce 100 list is an independent ranking that highlights the best-performing suppliers of services in the e-business and marketing sector. Compiled by research agency Motivaction, the list is based on the opinions of unbiased parties and customers, ensuring that the agencies have no influence on the final outcome.
The 18th edition of the Emerce 100 offers valuable insight into the online marketing, ICT, and e-business industries. The list serves as a guide for choosing top-tier agencies in the online sector and is an esteemed accolade for those included.
We congratulate TRIMM on this remarkable achievement and remaining committed to pushing the boundaries of digital marketing and delivering exceptional results to its clients and partners!