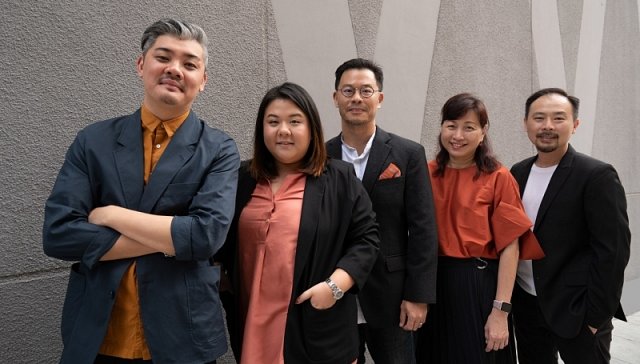 ICOM member and creative agency Paprika Global has merged with the public relations agency Huntington Communications to form Distilleri, an independent strategic communications consultancy. Both agencies are uniting to form a stronger suite of communication solutions as the marketing and media landscapes are becoming more fragmented. The merger will also help to future-proof Distilleri for challenges that marketing, public relations, and communications agencies are facing.
This merger is said to augment the capabilities of the two agencies with the fresh focus on brand strategy through insights from data, influence from Huntington's PR background, and strategic ideas from Paprika's creative and design background. The name Distilleri is a play on the word "Distill", which means to purify or refine through heat.
Following the merger, the new leadership team comprises MD Jin Ooi (pictured centre); senior advisor, founder Lena Soh-Ng (pictured second from right); head of creative, founder David Tan (pictured right); head of client solutions Junren Xiao (pictured left); and head of communications and partnerships BlessAnn Luah (pictured second from left). Distilleri currently has close to 30 employees, retaining individuals from both agencies.
Huntington Communications has been around for 30 years and specialises in CSR and crisis communications. Some of the clients it works with include Wild Rice, AkzoNobel, Shure, Eu Yan Sang, Park Regis and Tourism Tasmania. Meanwhile, Paprika was founded in October 2000 as a full service integrated communications agency and services clients including Maritime Port Authority of Singapore, Central Narcotics Bureau, New Balance, Decathlon, Microsoft and Abbott.
In an interview with Marketing, Ooi said Paprika and Huntington have been working together on pitches for the last two years and the proof of success came when they pitched for and won the SkillsFuture account. The idea for a merger came about at the end of last year and the team went into action at the beginning of the year, only to be delayed by approximately two to three months as a result of the circuit breaker implemented in Singapore.
According to Ooi, the industry has been "quite complacent" and not evolving fast enough. As such, the team at Distilleri wants to build a group of hybrid thinkers working cross functionally to deliver multi-disciplinary communications work. "It is not enough for our staff to think on one discipline. Instead, we want to expose them to PR and creative thinking, as well as the work behind social media. We want them to have more holistic ideas," Ooi explained.
Ooi added that the team wants to be an elite team that is not only hungry and curious, but also self-sufficient, nimble, ruthlessly efficient and effective, while focusing on its people. Distilleri also aims to reimagine the system by shifting the paradigm in areas such as agency compensation, for example.
"Agency compensation is time-based, we are paid for the work we put in. But we should be rewarded if the work is delivered faster and more efficiently. Agencies should be rewarded for high-value and deep work," he explained.
Speaking of the meaning behind its name, Ooi said the three "I"s represent insights, influence and ideas. Combined together, they form "impact" which can mean creative strategy, activation, partnerships or campaigns for clients. "We can distill nuggets from the noise and only big ideas get brought to life," he added.
"Our purpose is to win hearts and minds while our mission is to solve problems by changing mindsets and behaviour. Additionally, our vision is to become a Singapore communications powerhouse that to spark and catalyse change," Ooi said.
When asked how Distilleri plans to differentiate itself from other integrated communications agencies, Ooi explained that it wants to solve issues and challenges that clients face and will leverage on the flat structure within the agency, as well as the 3Is. According to him, the average tenure of employees between the two agencies combined is about five to six years. "We hope to chart a new course and not compare ourselves to others. But if I had to choose, I would aim for Distilleri to become like Droga5. Dave Droga is an inspiration to many people in the industry as he has an unconventional way of doing things," Ooi said.
While there might be plans for expansion in the mid-future, Ooi said the agency is currently focused on consolidating its operations in Singapore for now. It also aims to use word of mouth to raise awareness about the new brand.
"We are future-proofing the agency by encouraging continuous learning and 'hybridisation'. We have our employees involved in content production, for example, to make them learn how to produce more compelling posts on social media and deepen their post production skills," he added.